News, etc.
---
9Jun05
From John:

"Various reviews of Mark Stewart & the Maffia gigs in the UK:

http://k-punk.abstractdynamics.org/archives/005635.html

http://uncarved.org/blog/?p=652

http://heydalek.blogspot.com/2005/06/all-tomorrows-arties.html

http://kidshirt.blogspot.com/2005/06/i-wake-up-in-city.html (with photos)

Plus Resonance FM are apparently broadcasting the Bristol show on Monday night [13June] between 8:30 and 10:00pm [ed. note: Use World Clock to figure out what time that is for you. I think that would 2:30-4 PM my time (CST).]

The current issue of The Wire also features a Mark Stewart 'Invisible Jukebox' interview which is good."


---
8Jun05
Culf found a site devoted to Bristol's infamous club, The Dug Out where everyone, including The Pop Group, hung out. Check out the Vaults section.


---
2Jun05
Pascal (of the French band "La STPO") found a great quote from David Thomas of Pere Ubu, talking about their tour mates, The Pop Group, in an interview during their 1978 UK tour. I've added the quote to the gig ad page, under the Pere Ubu tour ad.


---
27May05
Another question... I saw this t-shirt advertised on eBay as having been purchased in 1980 at a London concert. Authentic or reproduction? (like those "We Are All Prostitutes" t-shirts so prevalent on eBay right now...) UPDATE: 'themazzystar' says probably not genuine.

Also, I see Mark Stewart's anthology, Kiss the Future, will be released 6 June on Amazon.co.uk. I've added it to the offspring page.
---
11May05
Ryan, over at Break My Face, gave me this A4 booklet, entitled "We Are All Prostitutes" and containing a series of political concerns of the time and, obviously, of The Pop Group. Does anyone know anything about this booklet?


---
22Apr05
Looks like Mark Stewart will now be playing in London the night before the Bristol gig, with none other than Aphex Twin (dj set). Part of All Tomorrow's Parties? June 2, SEOne Club. Thanks (again) for the update, James!


---
17Apr05
Alex spotted this on Soul-Jazz: "For those of you who wish to look even more into the future, the next two albums after this will be Mark Stewart's Kiss The Future, an anthology of his work with legendary Pop Group, The Maffia etc up to the present day. Mark Stewart and The Pop Group invented a sound that was subsequently taken up by Portishead, Tricky, Massive etc.and became known as the Bristol Sound. Mark Stewart and The Pop Group are the kings of Post-Punk and beyond and this anthology spans the whole of his career."

Update: Pete sent the track list to the CD:

Radio Freedom
Hypnotised
She's Beyond Good And Evil
Puppet Master
Hysteria
Jerusalem
We Are All Prostitutes
High Ideals and Crazy Dreams
Liberty City
Dream Kitchen
We Are Time
The Lunatics Are Taking Over The Asylum



---
11Apr05
Added 3 flyers to the press page. "A message", a promo for We Are All Prostitutes, and a flyer for a 1979 Manchester gig with A Certain Ratio. Thanks, Andy, for the scans!


---
08Apr05
Mark Stewart and Maffia + Adrian Sherwood are scheduled to play the Venn Festival, 3June05, Malcolm X Centre, Bristol. Thanks to Chiz and James for the news.


---
01Apr05

| | |
| --- | --- |
| | Simon Reynold's book on post-punk will be out soon. Unless it is significantly different from the Director's Cut of the earlier version, there will be quite a bit on The Pop Group. I've pre-ordered my copy from amazon.co.uk. |
---
Rhodri K, former classmate of Mark Stewart, saw The Pop Group at Bristol Uni in 1978. One of the tapes playing before the show was a recording of Herbert Marcuse, talking about socialism, time and "shooting at the clocks". Rhodri tracked down the recording on the internet and sent it to me. He thinks the speech may have influenced the lyrics of We Are Time. See what you think. Here is the recording of the speech.
---
09Nov04
Hurry on over to spoiltvictorianchild mp3 blog for a bonanza of Pop Group and offspring mp3s!

Added another poster for the Amnesty International gigs, that I found but did not win on eBay.

---
12Oct04
Added a couple of adverts for Y and tour to the press clippings page and another Good Missionaries flyer.

---
21Sep04
Updated the Jukebox and added a link to a mini-site on This Heat to the links page.

---
28Jul04
Added Janez' full telephone interview with Mark Stewart in streaming audio to the press clippings page (where else could I put it?!). Janez had rung up Mark Stewart in an interview for college radio in Ljubljana, capitol of Slovenia, around the time of Control Data.

---
6Jul04
Check out BBC 2 for a Bristol music documentary, with interviews with Mark, Gareth, and others, including contributor to this site, Tim Williams. Thanks to Nigel, RAB, Alex, Wayne, and Andrew for letting me know about this.

---
27May04
Added a scathing NME review of We Are Time, by John Gill

---
25May04
Added another from the box of Dursley scans. Rupert also sent a copy of this. Thanks! This is a review of The Pop Group and This Heat, from NME, July 1978; the same show I just added from Sounds.

Also added some photo clippings from Rupert. There are a couple of questions associated with these photos. One, are the top two shots from Ally Pally (Alexandra Palace)? And the bottom photo is from the CND rally, but is it The Pop Group?

---
21May04
Announcing a new feature on this site that I think you'll like: an mp3 web-log (aka blog) about The Pop Group and their descendents, The Pop Group jukebox. Comments are enabled, so please let me know what you think.

---
20May04
Another from Dave Dursley's scans: John Gill's article and interview with The Pop Group in Sounds, July 1978.

Also, I've updated the discography page with streaming mp3 of some tracks (sorry, I can't post downloadable mp3s), while phasing out the low-fi crappy .wav files.

---
4May04
Added The Wire's review of Y, when it was re-released as a CD, in 1996. Thanks to John Eden at Uncarved for this one.

---
23Apr04
Another belated posting from Dave's scans: NME review of Amnesty International benefit featuring Cabaret Voltaire, LKJ, Nico and The Pop Group.

And proof that The Pop Group was not John Waddington's first band: a review of The Boyfriends in rehearsal (along with The Pop Group review) in Loaded 3.

---
21Apr04
Cleaning up my office today, I found 5 floppy disks that Dave Dursley sent me way back in 1998, full of scanned stuff about the Pop Group. Most of the stuff was already up on the site, but I found this review of The Pop Group before they'd ever played in front of an audience! Another one from Loaded fanzine.
Also, a brief piece from the NME, on The Pop Group opening for Elvis Costello, Christmas Eve, 1977.
Thanks, Dave, and, if you ever stop by the site, it'd be good to hear from you again.
---
5Apr04
Tim Williams, editor of Bristol's Loaded fanzine (back in the '70s, that is), recently wrote a great article for you, dear reader, on the early days of The Pop Group. Thanks very much to Tim for this. And thanks to Simon Holland for the photos illustrating the article.

---
29Mar04
New Nectarine No. 9 album features Gareth playing "fuzz clarinet and piano", and he will playing some live dates with them, as well. Thanks, Mark Lungo, for the update.

---
22Mar04
Posted a review of Glastonbury Fair, 1979, by RAB. Only a brief mention of The Pop Group (The track 'We Are Time' on 'We Are Time' was recorded at Glastonbury '79), but interesting for a snapshot of the times.

---
01Mar04
RAB sent a copy of his interview with the Pop Group in Sounds, December 1977, possibly the earliest appearance of the Pop Group in the national music press.

---
26Feb04
Andy has put together a page called Musings Around Post Punk Funk. Check it out!

---
27Nov03
Found a great photo of The Pop Group on the cover of the Italian 'zine, Rockerilla. Added it to the press page.

---
28Oct03
Alex attended a 5 hour On-U/Adrian Sherwood festival in Holland and reported "going completely out of my mind" when the unannounced special guest, Mark Stewart, came onstage. Alex says, "He did 4 songs, but put almost all of his songs in the lyrics. At one time he also sang (shouted) "I'm a thief of fire!!!!"

The show is available in streamingRealAudio here. Thanks, Alex, for the link. We're all jealous.

---
9Oct03
Added a CC Sager review/interview to the press page. Thanks, Douglas.
---
4Sep03
Stanislav writes to say that he featured The Pop Group and offspring on his radio show in New Orleans. The set is online, streaming and mp3, on his site: Little Lighthouse.
---
11Aug03
Philippe Carly has finally posted his excellent photos of The Pop Group on his New Wave Photos site. Thanks, Wilson, for the great news.

But who is that mystery bass player? I recognize Dan Catsis (the bearded one) - didn't know he was left-handed - switching off on guitar and bass, but there are a couple of photos of a second bassist. Anyone know? God, these photos are tantalizing. Sure wish I'd seen them play live.


---
31July03
Haven't had any news to report in awhile, so I'll just throw out some links: An enthusiastic review of C.C. Sager's latest; and Trouser Press is back online with brief entries on The Pop Group and Pigbag, and longer ones on Head, Mark Stewart, and Rip Rig.


---
12June03
I registered the domain name www.thepopgroup.net. It goes to this site, but it's a little easier to remember than the University's cumbersome URL.

lo-fi jr discovered yet another compilation featuring The Pop Group. This one is to be called Post Punk (not quite as creative a title as 'Cockney Sound Just Now'....), on Rough Trade.

---
4June03
Janez, from Slovenia, interviewed Mark Stewart for his college radio station in 1996. He has just made the recording available online as an mp3 on his website. Check it out. Good interview. (Or you can read it, if you can read Slovenian.)


---
2June03
Added C.C.Sager's The Last Second of Normal Time to the offspring page, because it's out now. I've ordered my copy from Creeping Bent Organization.


---
20May03
Takuji posted an enlargement of the Pop Group's mugshots that are on his copy of We Are Time. Also here. Thanks again, Takuji!


---
30Apr03
Nigel noticed a new compilation called Wild Dub: Dread Meets Punk Rocker that features The Pop Group's Where There's a Will, along with a host of others, some rather unlikely. Available from your local Amazon.com or co.uk or .de or .jp

In other exciting news, I finally tracked down a 'new' Pop Group track, an entirely different and funky version of Please Don't Sell Your Dreams. It is from the Radar Sessions, most of which are featured on We Are Time. If I'm not mistaken (and PLEASE correct me if you know), these are the tracks that Hugh Cornwell produced. Enjoy! Thanks very much to James Ellis for this prize.


---
10Apr03
Added some Japanese releases to the Discography. Thanks to Takuji for scans of the strangely titled 'Cockney Sound Just Now' (Cockney?!) compilation and the Japanese LP version of We Are Time.


---
28Mar03
Read some exciting news on Creeping Bent's site today (thanks, John, for the tip off).
New Gareth Sager abum out soon, a post apocalypic slab of urban claustrophobia!
Keep yr eyes Peeled for forthcoming debut album by CC Sager, the first album by ex Pop Group/Rip,Rig,& Panic majordomo for eons. The Last Second Of Normal Time is now manufactured and awaiting release, stay tuned for further information. Also look out for new Pop Group compilation later in the year, again, stay tuned to www.creepingbent.org for updates.
---
11Feb03
Several people have written me, since I posted that my copy of the For How Much Longer CD does not include the Last Poets' track, One Out of Many. There are at least 2 different CD versions of this disc (only available from Japan), and if you're buying a copy, make sure it's got all the tracks! One Out of Many is worth having. But don't worry about me; I just got the double-whammy Japanese CD, with For How Much Longer and We Are Time on one disc. This has been exceedingly rare, but it's been turning up with more frequency recently. Don't know why.


---
6Feb03
Did a bit of an overhaul on the old site. While most of it should be transparent, the main thing you might notice is the navigation bar at the top of every page. Something I've been thinking about for a long time and finally got around to. Please let me know if you find any broken links or anything weird.


---
4Feb03
Added the Sounds 24March1979 cover story and interview to the press section.


---
6Jan03
Happy New Year to all!

I've heard from Kevin Pearce, author of Something Beginning With O. He is, thankfully, okay with my borrowing Chapter 5 from his book. He also pointed out that the Zigzag article on my press clippings page is by Steve Walsh of Manicured Noise (link to article by Kevin), a group that toured with The Pop Group.
---
17Dec02
"Washing one's hands of the conflict between the powerful and the powerless means to side with the powerful, not to be neutral." -Paulo Freire, educator (1921-1997)

Found this quote in my inbox this morning, from dictionary.com's Word-a-day mailing. Sounds quite like the line from No Spectators.

Also found a great photo of the We Are All Prostitutes shirt. Added it to the bottom of the badges page.
---
09Dec02
After years of trying to get it, I finally got For How Much Longer on cd. I've paid for it before but never received it until today. From Tokyo. I hadn't realized that The Last Poets song One Out of Many had been left off of the cd. Tis a shame. Oh, well, nice to finally have this on cd.
---
02Dec02
Looks like Japan has re-released Y and We Are All Prostitutes CDs. The only place I've found them for sale is on amazon.de. Thanks, Jan, for the info.
---
02Dec02
So, I lost the bid on the Japanese pressing of the We Are All Prostitutes single. I'd be interested in a better scan of the inner sleeve, if anyone owns it. Here's a snapshot from eBay. Another image found on eBay is the cover of Sounds, 1979, which features a negative image of The Pop Group. I've included it at the top of this page along with an inverted image so you can actually see the band photo.
---
27Nov02
On-U's Chainstore Massacre is out now, and what's more, Mark Stewart's track is available for download, in its entirety, in mp3 format at On-U. Check it out. Thanks, Giorgia, for the heads up.
---
20Oct02
After much searching, I tracked down Kevin Pearce's long out of print book, Something Beginning With O. I've been seeing quotes from it forever on the 'net (including on this site) but couldn't find the thing itself. Got it off eBay from a seller in Lockerbie, Scotland. I was surprised at what a thin book it is, as packed as it is with quotable quotes. It includes a never-seen-before (by me) photo of a very young Pop Group. Here is the photo and Chapter 5, which is about The Fall and The Pop Group. Enjoy.
---
20Sep02
Finally! merged the two versions of the Y discography that I've had online for over 3 years! into one document. Let me know if you have any corrections.
---
16Aug02
Finally tracked down Head's Tales of Ordinary Madness. Added it to the offspring page.
---
11Jul02
Added some scans of some never-seen-before (by me) Pop Group badges to my badges page. And added bootleg cassette artwork (as sold in Camden Market, London, back in the day) to the bootleg page. Thanks to Paul Atton for these. Also, check out Paul's memories of several Pop Group, Rip Rig, and Maximum Joy shows.
---
15Jun02
Nigel noticed that Mark Stewart is recording with Adrian Sherwood, a track called "The Lunatics are Taking Over the Asylum" for an On-U compilation. And Alex talked to Adrian S. at a Little Axe show and confirmed this.
---
23Apr02
Tim Lamb clued me in about another post-Pop Group On-U project, Playgroup, featuring John Waddington and Bruce Smith and the usual On-U cast of thousands. It's good stuff.
---
2Apr02
Gareth Sager is working on a solo album under the name C.C. Sager, for Creeping Bent Organisation. Scheduled for release Summer 2002.


---
15Mar02
Interesting tidbit: I bought the Steve Beresford and Tristan Honsinger (Honsinger played cello on We Are All Prostitutes, among other Pop Group tracks) CD re-release of Double Idemnity, originally on Y Records. In the liner notes, Beresford says 'I think [Dick O'Dell] got the Y motif from the back cover of Spiritual Unity by Albert Ayler....' So, I searched the web and found a scan of the back cover and an accompanying quote from the sleeve notes that says "The symbol 'Y' predates recorded history and represents the rising spirit of man." Thanks to Rattay Music and the Albert Ayler fan site.
---
12Mar02
Interesting Pop Group review at Datacide.


---
11Feb02
Added a link to author Simon Reynold's article on post-punk, with quite a bit on The Pop Group.

---
11Feb02
Finally typed up a little account of our trip to the UK back in October.
---
8Feb02
The Pop Group's She is Beyond Good and Evil is featured on a new compilation of post-punk hits called "In the Beginning There was Rhythm," along with This Heat, Cabaret Voltaire, A Certain Ratio, The Slits (obviously), and others on Soul Jazz Records.
---
4Feb02
Michael Millett sent me scans of the inserts that came with his US copy of For How Much Longer. one - two - three

They've been added to the posters page.


---
1Feb02
Added the Simon Underwood-produced Mouth 7" to the Y discography page. Thanks to Tim for the scans.


---
16Jan02
Added The Glaxo Babies Shake! to the Offspring page. The Pop Group often covered Shake (the Foundations) at their gigs, like this bootleg from the Alexandra Palace gig.

Awhile back, I mentioned Napster as a great place to get mp3s of Pop Group material. Now Audiogalaxy (based here in Austin, Texas, by the way) is the place to be. I just found Shake the Foundations by Pop Group and Ari there. Someone please share the Glaxo Babies' version!
---
06Nov01
Thanks to Mike Crawford of Apache Dropout (Rich Beale is the singer for A.D.) for the scans of C.C. Sager (Gareth solo release) and Head's Sin Bin single and Intoxicator L.P. that I've added to the offspring page. (I've since found a copy of Intoxicator, and I like it, especially the song, "Under the Influence of Books.")

Also, much gratitude for Mike's hospitality during our visit to Bristol. I will elaborate on our trip at some point.

---
18Sep01
Tim Bayes sent a movie file of the Pop Group doing Rob A Bank live. You'll need high-bandwidth or lots of patience to download it, as it's almost 7MB in size. But it's worth it.

---
5Sep01
xpyda sent a pic of the We Are All Prostitutes t-shirt, with himself in it.

---
20July01
Added She is Beyond Good and Evil mp3 from the Bristol Granary 10-Oct-78 to the bootleg page. Thanks to Alex for this.

---
21June01
Found a link to Foel Studio where the Pop Group recorded For How Much Longer and various other tracks. The Foel Studio website lists The Pop Group on their clients page.

---
24May01
I'm not sure how I missed this before, but I just discovered that 2 New Age Steppers LPs have been reissued on CD. Action Battlefield and the s/t album seem to be available at all the online CD stores. New Age Steppers s/t seems to include several members of the Pop Group + some Slits and others, while Action Battlefield seems to be On-U folks with Ari (Slits) singing.




---
22May01
Added images of 2 Maximum Joy singles to the offspring page and better images of 3 Pigbag singles that I already had listed. Also, added links to images from the Y discography pages of John and Alex .

---
5April01
Added article from 30Sep78 NME.


---
28Feb01
Divided the guestbook up by year, so it loads a lot faster. Also, fixed the guestbook script (it wasn't confirming entries, which probably accounts for the repeated entries.) I had no idea it was broken or for how long!
---
3Feb01
If you haven't discovered it yet, Napster is a good place to find Pop Group tunes. Much easier than actually finding one of their CDs in any online (or otherwise) store.


---

3Dec00
Added a pretty good article on The Pop Group from Zigzag mag, circa 1978.


---
5Sep00
Sean Edwards sent a scan of a very cool Pop Group badge he bought in his native Bristol 'back in the day'. Thanks, Sean! If anyone knows the story behind the image, please get in touch.
---

21Aug00
Uploaded another mp3 from the Helsinki show, one that wasn't on Mona Mona. Thanks very much to Alex Koppert for this one! Not sure what the song title is, but it's probably "Work Work Work" or "Entertain Your Life Away." On the bootleg page.

Also, got an email from an online CD company saying, "Could we get a link on your site? We try to carry a full range of available Pop Group Inventory. Keep up the good work!!!!"
Well, here's the link:

http://WWW.ImportCDS.com


And..... I've recently gotten two separate requests for info on who owns the rights to the Pop Group's recordings. Two different independent labels are wanting to re-release PG material (an Australian company wants to do a box set!!). As these recordings go for ridiculous prices on ebay, I don't know why they aren't continually in print anyway. If anyone has any info that would help out, please let me know.

---
1Aug00
I finally uploaded some more mp3s from the Helsinki and Bristol Granary shows. Check out my bootleg page. And by all means, if you have others, let me know!!!
---
24July00
Actually paid the fee for http://go.to/popgroup, so now it is a bona fide URL with no ads! Much easier to remember.

Also, uploaded a recent article on Pigbag that answers the question (asked a few times in the guestbook here), "What's Simon Underwood up to?"
Thanks, Edward, for the article.
---
---
7June00
Got a copy of For How Much Longer, with all 4 double-sided posters in excellent shape, off ebay. Scanned the posters that I had previously never seen and posted them on the posters page.

---

6Apr00
Added Pop Group interview from Slash magazine (San Francisco, 1980), and relinked Dave Dursley's rememberance of early Pop Group in Bristol, and two video stills.
---

29Mar00
I can't afford a .com yet, but I have registered http://go.to/popgroup if that's easier to remember than the University's unwieldy URL ccwf.cc.utexas.edu/~edge/etc/etc/etc. It's got ads and all that, of course, but you can "Open frame in new window" or whatever and be in the real thing.

---

25Feb00
Ricardo Vieira sent scans of the cover of the bootleg Mona Mona.
---

23Feb00
Tim Woodhouse sent me a copy of the Nick Cave testimonial for We Are All Prostitutes as shown on Channel 4. Thanks, Tim! The footage is from "She is Beyond Good and Evil" and "Boys From Brazil." I'll see about making a QuickTime movie of it, but it may be too big.
---

31Jan00
Nick Halliwell sent a scan from this month's Mojo that features a little blurb on the Pop Group and a mention of this website. Cool!

---

28Jan00
Fixed the guestbook script. I guess it's been broken since I tried to fix a Y2K bug at the first of the year. It's back up now.

Also added the compilation 1-2-3-4 to the discography page. Here's the bit on the Pop Group from the liner notes of 1-2-3-4. (Thanks, Edward.)
---

11Jan00
I've uploaded 2 bootleg mp3 files of The Pop Group on John Peel, We Are Time and Words Disobey Me. Here.
---

10Jan00
Finally got a copy of the Pop Group/Mark Stewart live bootleg disc. (Thanks, Nick!) Crazy stuff. Of the 4 tracks listed as Pop Group, I personally think only 3 are actually Pop Group. I think the 4th is Mark Stewart & Maffia covering We Are All Prostitutes. I've made MP3s of the tracks and am trying to find a home for them.

---

2Dec99
Anyone know anything about "Le Chimp Atomique" listed as a Pop Group album on http://search.cdzone.co.uk? It has the same catalog number as the Y cd, SCANCD14. Strange! [Ed. note: Nigel Hardy has solved the mystery. The CD appears to be "by techno blacksheep Tobias Scmidt" on Scandinavia records, hence the Scan14. -28Feb02]

By the way, they have some Japanese imports listed, for those of you who have been trying to track them down.


---

23Nov99
Installed a search engine. I think the site is big enough to warrant a search engine now. In fact, I think it was overdue. Try it out!


---

18Nov99
Loaded 2 versions of the discography for Y Records. These were sent in response to someone's comment in the guestbook that he thought Y Records was run by The Pop Group. Alex Koppert sent his version about the same time that John Henderson entered the whole discog in the guestbook. This was back in April, but I'm just now getting around to sticking them on the site. Eventually, I might get around to merging them, but for now, here they are. John's Y discog and Alex's Y discog (Alex's headings are in Dutch, but you'll be able to figure it out).


---

11Nov99
I went to the UK for a brief holiday last month. Among other destinations, I spent a couple of days in Bristol, trying to track down Pop Group info. I talked to Dan Catsis (PG bass player) for awhile on the phone, but we didn't manage to get together. I just rang him up out of nowhere the night I got to Bristol. My trip was spur of the moment, so I didn't have enough time to contact him before heading over. Dan corrected a couple of minor mistakes I had made on the site, one being my incorrect assumption that John Waddington had formed Maximum Joy, when in fact John had joined later. On the trip, I was able to hear Maximum Joy for the first time. I rather enjoyed the single, Stretch. Didn't hear the album.

Dan suggested I go around to Cube Cinema/Gallery in King Square in Bristol, right around the corner from Swarffinger (Pregnant's label). He said The Cube had recently made a documentary about the Bristol music scene and that it might be worth contacting Julian at Cube. I did. Had a good visit there. By chance, I got to see 2 Pop Group videos on loan from Gareth Sager. Got to see the whole video of "She Is Beyond Good and Evil," instead of just clips from it, and "The Boys From Brazil," which was genius! Unfortunately, I did not get copies of the vids.

I tried to track down John Waddington, who also lives in Bristol, with no luck. I don't think he's in a band at the moment. I had read about his band Normal 2000, but don't know if they still play or if they've ever recorded.

Another neat thing I saw at Cube, but didn't get a copy of, was a family tree of all the Bristol bands. Pretty cool.

On the trip, I got to meet two long-time contributors to this site, Nigel Hardy in London, who manages pigbag.com, and Dave Dursley, in Bath, who was running the Dolly Mixture site (though it is currently offline until he finds a new home for it). Both were extremely hospitable, as were Nick and Elena, in Exeter, new friends to this site.

I never was able to track down Mona Mona anywhere in the UK. Asked at Rough Trade and everywhere else. No one had even heard of it. I was very disappointed. I thought I'd be able to walk into Tower or Virgin Megastore and find it. Poor, naive me. (I never found Dolly Mixture's Demonstration Tapes, either!) I even emailed Ricardo in Brazil, from London, and asked him where he had found Mona Mona. He responded quickly (Kensington Market, downstairs), but the little shop did not have it anymore. Anyway, Nick was able to track it down through www.gemm.com, so I'll finally get to hear it.

I picked up a lot of music while in the UK, as might be expected. Picked up a copy of Pregnant's MoodMaster cd in Bristol. Saw Atari Teenage Riot at The Fleece and Firkin in Bristol. I left when Alec Empire kicked a bunch of glass into the folks up front where I was. Saw Asian Dub Foundation in London and thought it was probably a lot like seeing Pop Group when they were at their most political!
---

5Nov99
Yet another new look for the home page. If you miss the old one, here it is.


---

5Nov99
Started a new section: a discography of The Pop Group's offspring, like Rip Rig and Panic, Maximum Joy, etc. Will add to it over time.


---

20Sept99
Finally transcribed a very long article and interview from NME (30June79) and uploaded it to the press clippings section.


---
30Aug99
Ricardo Vieira sent me the track listing for Mona Mona. 4 Pop Group songs, live in Helsinki, October 1980: Liberty City, Hotter than 1000 suns, Feed the Hungry, and We Are All Prostitutes. It is a bootleg on a label called Slave to Love.


---
25Aug99
Two people have told me that there is an album featuring live Pop Group on one side and Mark Stewart on the other, called Mona Mona. If anyone can give me info on how to get it, please do!
---
June99
Dave Lang came to stay with us while visiting from Melbourne. Be sure to ask him about Texas in June. Slightly hotter than Melbourne in June.
---
7June99
Finally started transcribing some of the articles and reviews Dave Dursley sent me so long ago. See the press clippings page for NME and Melody Maker articles...
---
3June99
A new look for The Pop Group page. Hope you like it. If you miss the old one, here it is....

Also finished the lyrics page by transcribing "Where There's a Will..." and "Rob a Bank," the only two songs I didn't have printed lyrics to. Help out if you can fill in a couple of holes in the lyrics!


---
20April99

Alex Koppert of The Netherlands has made available a collection of Mark Stewart MP3s at www.dub.org.uk/sounds/, that Alex recorded live in 1990 in Rotterdam.
---
2Feb99
Be sure to check out Dave Lang's article on the Pop Group at Perfect Sound Forever.
---
29Jan99 - It had to happen sooner or later. The Pop Group finally made it on to a punk-rock compilation cd. Actually, a "postpunk" compilation cd. Rhino Records has just released 3 cd's of postpunk. The Pop Group's We Are Time is on the 1st volume, Scared to Dance. I was beginning to wonder what the hell was going on with all these millions of compilations and no Pop Group anywhere (other than Volume). Pigbag is on the same disk.
I see they've also shown up on a punk-rock compilation, a 5 cd set. UK release, I think. "1-2-3-4, Punk and New Wave 1976-1979," on Universal. The reference number is MCD 60066. (Thanks, Edward.)
---
26Jan99
At the moment, one of our TV channels (Channel 4) is running a series of 10 minute programmes called 'Music of the Millennium' which goes out at 7.50 P.M. each weekday evening. This features 'celebrities', people from the Arts etc. talking about their favourite/most influential piece of music of all time. The January 25th edition featured Nick Cave and his choice was 'We Are All Prostitutes'.

A brief report on 'Music of the Millennium' (January 25): The programme only lasted just over 4 minutes - the length of the track (which was played in it's entirety). Visually we were given clips from the 'Beyond Good and Evil' video (I would have been amazed if they'd unearthed anything else), intercut with Nick Cave being incredibly complimentary and enthusiastic about the band. He felt the beginning of the record to be the greatest start of any record, EVER; said that seeing the band shortly after arriving in England changed his life; and that he has been playing the record a lot recently and that it still moves him as much now - plus lots more.

Today's (Jan 26) 'Guardian' sums it up nicely: "Last night it was Nick Cave on 'We Are All Prostitutes', by The Pop Group. When Cave first came to England in 1980 he was disappointed by the lame, bloodless, constipated pop. It was, he said, like being gang-banged by a pack of marshmallows. Isn't that fabulous? Then he went to see The Pop Group - unholy, manic, violent, paranoid, painful music - and felt that the cogs of his mind had shifted. The man's a genius with words, the film a little gem."
I am NOT in the Channel 4 viewing area (Texas is a long way out of the viewing area), so if anyone caught the show on videotape , think of me when you think of dubbing a copy! - Dixon
---
The Pop Group's "We Are All Prostitutes" is out! It is a sort of Greatest Hits, and it's MIGHTY FINE!

You can order "We Are All Prostitutes" and "Y" directly from Rough Trade.

Also try Cheap or What! CDs in the U.K. and OtherMusic in the U.S. CDBanzai lists all the Japanese imports + the UK stuff.
---
"SUBVERSIVE INTENT" - if you order stuff from cdnow or cduniverse, like I do, be warned that "Subversive Intent," which is listed at both places, is in fact "We Are All Prostitutes." It is the Japanese release of that album, and it is just incorrectly listed. Maybe something was lost in the translation from English to Japanese and back again.

. . .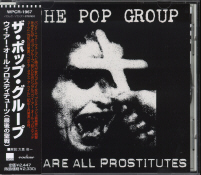 ---
28July98: A guy named Mark writes, "I don't know if this is true or not but there was supposedly a promo 12" of "She is Beyond Good and Evil/3.38" that had a bonus track on it. Someone told me that at a record show in NYC but they could have been full of shit." Anyone heard of this mysterious release?
---
Clue me in if you know of other stuff (i.e. stuff not listed on my Pop Group discography).
I NEED IT!
-Dixon>