home * intro * news * jukebox * discography * lyrics * bootlegs * guestbook * offspring * links
---
THE POP GROUP

Discography:
Y - (1979 RadarScope Records - RAD 20B; 1996 RadarScope SCAN CD 14)

She is Beyond Good and Evil (on 1996 re-release)
Thief of Fire
Snowgirl
Blood Money streaming mp3
Savage Sea
We Are Time
Words Disobey Me
Don't Call Me Pain
The Boys From Brazil
Don't Sell Your Dreams

We Are All Prostitutes - (single, 1979 Rough Trade - RT023) b/w Amnesty International Report


Where There's A Will... - Split single (with The Slits): (1980 Rough Trade - RT039A)


We Are Time - (1980 Rough Trade - Rough 12)

Trap
Thief of Fire
Genius or Lunatic
Colour Blind
Spanish Inquistion
Kiss the Book
Amnesty Report
Springer
Sense of Purpose
We Are Time

For How Much Longer Do We Tolerate Mass Murder? - (1980 Rough Trade - Rough 9) (1996 Japanese CD - TDK! Records TDCN-5575) (and Rough Trade Japan - TDCN-5153)

Forces of Oppression
Feed the Hungry
One Out of Many (Last Poets arr.) (not on the TDK! CD)
Blind Faith
How Much Longer
Justice
There Are No Spectators
Communicate
Rob a Bank




On the Rough Trade Compilation "Wanna Buy a Bridge?" - (1980 Rough Trade - Rough-US 3)
We Are All Prostitutes - (cd, 1998 Radar Records- SCAN CD/LP 31)

We Are All Prostitutes
Blind Faith
Justice
Amnesty Report
Feed the Hungry
Where There's a Will
Forces of Oppression
Spanish Inquisition
No Spectators
Amnesty Report II
And....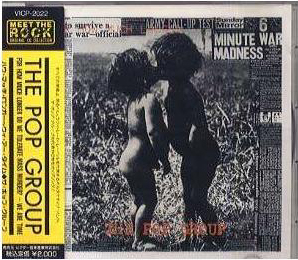 There's the Japanese release of For How Much Longer and We Are Time on one CD. Expensive and rare.

A couple of people have told me of a promo of Where There's A Will and In The Beginning as two one-sided DJ-only 7" singles. Pretty rare, I'd guess. Got this scan of the cover off ebay.




COMPILATIONS:

3.38 (the flip of the single "She is Beyond Good and Evil") was re-released on a Volume cd compilation, 1996 (16VCD16).

3.38 is also on a compilation called "Jazz Satellites," with folks as diverse as Sun Ra and John Cage.

"We Are Time" is featured on a "postpunk" compilation, called "Scared To Dance," on Rhino Records.

There is also a 5-CD box set of Punk Rock that features the Pop Group, called "1-2-3-4: Punk and New Wave 1976-1979," on Universal. The reference number is MCD 60066, and the Pop Group are track 10 on disk five, with "We Are All Prostitutes."

And... Dave Green writes, "I just noticed in a book of mine that a Pop Group song featured on the compilation 'Sharp' (wea/stemra WEA 58080). Apparently it was a Dutch album, I don't have anymore details..." Anyone know anything else about this? What song, etc?
Update, 20Jan03: Stephan writes with the answer: "The Pop Group song is She is beyond good and evil. The title of the album is Sharp. 16 sharp new rock acts, and contains also tracks by Dave Edmunds, Dictators, Elvis Costello, Richard Hell, Ramones, Undertones, Nick Lowe, Cars, Yachts, Bram Tchaikovsky, Spiderz, Angelic upstarts, Rezilos, Pretenders, Television."

Mark Lungo found another: On the Radar compilation "The Farside of Radar--April 1996"-(1996 Radar RADAR 1) "She Is Beyond Good and Evil" AND "We Are Time."

Mona Mona - a bootleg of 3 Pop Group songs, live in Helsinki in 1980, and several Mark Stewart tracks. On a label called Slave to Love. Difficult to find! Also available under other names.

Takuji let me know about a Rough Trade Japan cassette-only promo called, strangely enough, Cockney Sound Just Now, that includes The Pop Group's "Where There's a Will...."

No Thanks! box set features She is beyond....

I Like It on Compost, 2003, features We Are All Prostitutes

Additional compilations and Japanese releases...

Clue me in if you know of other stuff. I NEED IT!

---